GeekWire shares BoldIQ CEO's 3 principles for managing everyday work and life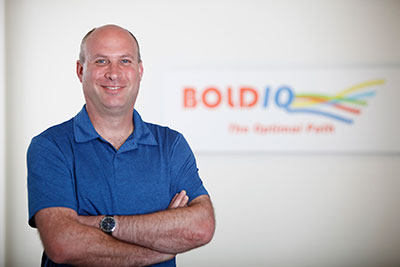 Working Geek: BoldIQ CEO Roei Ganzarski's 3 principles for managing everyday work and life by MONICA NICKELSBURG
As a father, president and CEO of BoldIQ, and a member of the UW Global Business Advisory and WTIA boards, Roei Ganzarski's time is in high demand.
At BoldIQ, a Seattle software company that crunches real-time data to help organizations optimize business operations, Ganzarski focuses on five key areas. He works on defining BoldIQ's long-term vision, business development, daily operations, scalability, and marketing.
How does Ganzarski define his role? "I create great headaches for my team," he said.
Ganzarski practices "inbox-zero" religiously and makes family time a high priority. To keep it all in balance, he has developed three guiding principles.
He shared his tips with us for this installment of Working Geek, a regular GeekWire feature. Continue reading for his answers to our questionnaire.
Current Location: "Bellevue, WA. Right across the street from Crossroads Mall. Great food all around."
Computer types: "Combination of desktop and laptops. We are windows based – all PCs. With our choice, we are supporting another local company, Microsoft. :)"
Mobile devices: "To each their own. I personally have a Samsung S7 Edge. Love it."
Favorite apps, cloud services and software tools: "Glympse app (I use it every day to let my family know about my commute); Google News & Weather app (to keep up with the world); Starbucks app (to get my daily dose of caffeine); WhatsApp (Overall communications. There is nothing like it!); Paymo cloud service for time tracking on specific projects as needed; everything else is pretty standard."
Describe your workspace. Why does it work for you? "L-shape desk with two monitors right on the corner (+ the laptop screen) and snug against two walls with windows. This provides me with great coverage of all my data on the three screens and opens up the floor space as opposed to having some sort of desk blocking the way and separating me from my team."
Your best advice for managing everyday work and life? "I live my life and work with three guiding principles:
Always remember where you came from and where you are going
Only dead fish go with the flow
The light at the end of the tunnel could be a train
These three guidelines help me prepare, be proactive, and react to the various situations I find myself in, be it at home or work. And do it all with a passion!"
Your preferred social network? How do you use it for business/work? "My preferred social network is getting together with my friends for coffee or a great BBQ. And if I can't see them in person I use WhatsApp to keep in touch. The rest (i.e. Linkedin, Twitter, Facebook) I use just for sharing work PR type things or posting that we are looking for new great team members to join."
Current number of unanswered emails in your inbox? "At the end of each day = 0! I am very disciplined with my inbox. I use it as my to-do list. I either answer the mail, forward the mail if someone else needs to care for it, or I file it when done. Note that my initial answer may be an acknowledgment of the mail and I still have work to do on it, but it is at least initially answered. Discipline and my mobile phone are two things that help keep this intact. Also, a reason I like to come in early to the office to tend to the emails that came in the evening before and overnight."
Number of appointments/meetings on your calendar this week? "15 and one of the days this week I am traveling to California for a customer meeting."
How do you run meetings? "No phones or other distractions; one conversation at a time (no side conversations or whispering while someone is talking); everyone can voice their opinions openly with full transparency; everyone gets a voice but not everyone gets a vote."
Everyday work uniform? "Full suit and tie…NOT. I have found that feeling comfortable allows me to do better work. Clothes, in fact, do not make the man. It is the person that makes clothes work. On any given day, you will find me in jeans, crocs canvas shoes (very comfortable) and a flannel shirt (or UW Husky hoodie)."
How do you make time for family? "I make time. Priority and discipline. It is easy if you decide to do it. It is your decision how to balance – make it, and live it. Don't give yourself or others excuses. Your decision to miss a kid's recital or game, your decision to take your kid to their sports practice, your decision to be home every evening for a family dinner. It is not right or wrong, but it is your decision. As the company leader, it is my role to enable my employees to maintain a healthy balance (which they have to be able to define for themselves) and I have to maintain one for myself and live it by example. Both during times of calm and during urgent hectic times."
Best stress reliever? How do you unplug? "My kids. They make me laugh and they make me cry. But they always make everything else seem small and doable. Nothing like sitting around the dinner table with them and my wife and talking about their day."
What are you listening to? "Right now…my employees talking about some feature they are working on…"
Daily reads? Favorite sites and newsletters? "I go through multiple elements of the Google News & Weather app. Easy and regularly updated. I also get various headline feeds from the industries we are in."
Book on your nightstand (or e-reader)? "Sylvia Rafael: The Life and Death of a Mossad Spy"
Night owl or early riser? What are your sleep patterns? "I am up at 6 a.m. Take my eldest daughter to her high school bus at 6:35 a.m. In the office by 7:20 a.m."
Where do you get your best ideas? "Everyone and anyone who will share them. Customers, employees, friends, family. My ears are always open to good ideas that when applied to our company, our family, or my life, could be great."
Whose work style would you want to learn more about or emulate? "There is no one person I would want to emulate. I try to learn from each leader I meet, be they a leader at work, home, their community, etc. And I try to see what things work for them and what don't and why. I then try to apply to my own style as I grow."