BoldIQ Team How Smart Will Our Cities Become in 2018? The Fast Mode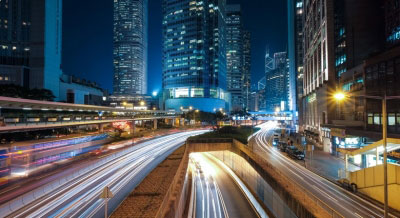 "Emerging Futuristic Tech, the Battle to Become the E-Commerce Top Dog and the Re-Imagining of Brick-and-Mortar Will Dominate"
This past year has given us a glimpse into what our futuristic society may hold. For example: in the e-commerce realm, Amazon launched Amazon Go stores allowing consumers to skip the inefficient checkout process by linking their phone to the store app. This step forward acted as yet another sign of how retail giants are fully embracing the ever-changing online shopping experience. In 2017, we also saw next generation technologies start to emerge across new industries from delivery services to disaster recovery efforts. However, experts believe 2018 will be even more transformative. How so? Below are a few trends we can expect to see as we enter the New Year.
#1: AMAZON WILL HAVE TO FIND ITS COMPETITIVE EDGE IN 2018 AGAINST THE CIRCLING COMPETITION
2017 may have been Amazon's year – from its $13.7 billion Whole Foods Market acquisition to its plans to use futuristic technologies like delivery drones and bots – but this success has created new competition for the marketplace. Companies like Walmart and Target are starting to one-up each other, racing to meet the new consumer expectations of free or two-day delivery. In response, Amazon will quickly need to find a way to differentiate themselves from the pack by offering something no one else currently does (or can) in order to regain their place at the top of the leaderboard in the New Year.
Now, what might that look like? How about a "buy now, deliver later" service. Say you come across a product online you may want to purchase as a birthday or holiday present but it's a few months until you need to give it to that person. Right now, you would have to buy it and store it yourself or hope it will still be the right price at a later date. However, what if Amazon offered the option to buy it now – in full, not on layaway – but have it shipped at a time of your choosing. This ensures you get the price you want and delivery when you need it while guaranteeing the company a customer.
#2: THE RE-IMAGINING OF BRICK-AND-MORTAR AS WE KNOW IT: HELLO RETAIL EXPERIENCES AND STORAGE HUBS
Shopping malls and retailers across the United States have been steadily closing their doors over the past five years, leaving an eerie vacant building ready for the next tenant to come in and transform it back to its former glory. And as social beings, we want to interact and 'experience' things like going to the mall or store to look, touch, and try-on items before buying them but would rather not be inconvenienced by driving our cars, carrying bags, or only hoping they have the desired item in stock. On the other hand, the retailer would probably prefer to pay less in store front rent, not have to hold so much inventory on site, and put more focus on the customer experience.
In 2018, a transformation will begin. As consumers grapple with the experience of going shopping versus the convenience of e-commerce, traditional brick-and-mortar stores and malls will transform their storage footprints and physical shopping experiences. These new store fronts will allow the consumer to experience, touch, feel, and try on product and even buy it on the spot – but eliminates the worry about it being in stock, carrying it around, or having room in the car (or ride share) to bring it home. Instead, customers will get their purchased item shipped directly to their doorstep. Not only will this make the shopping experience more pleasurable, this trend will promote the use of ride sharing and next generation delivery and transportation models.
#3: DRONES AND DELIVERY BOTS ARE COMING TO A TOWN NEAR YOU, BUT NOT HOW YOU'D EXPECT
Based on recent regulation discussions by the FAA and White House, delivery drones and sidewalk bots might be coming to your doorstep sooner than you think, furthering our goal of 'smarter' deliveries and supply chain optimization. In fact, a Gartner forecast report predicts the global drone market will grow to more than $11.2 billion by 2020. In the next year, we can expect to see more businesses across several industries testing both bots in metro cities, which are more heavily populated, and drones in rural areas where there are fewer obstacles and distractions.
#4: INTELLIGENT SMART TECHNOLOGIES WILL BEEF UP DISASTER RECOVERY IN 2018
With an unprecedented number of natural disasters this year, many companies, cities, and countries will begin to overhaul their disaster recovery strategy and use smart technologies to optimize recovery efforts. By using software that provides decisions based off of previous disaster data and real-time resource and situational data, advanced technology will be used to make life saving decisions in real-time. In addition to using 'smart' technologies, states, organizations and individuals will turn toward applications that crowdsource recovery efforts to formulate the best plan when we are forced to expect the unexpected.
On that note, 2018 has the potential to surpass our expectations on next generation technology innovation and implementation. As consumer demands in an ever more connected economy continue to dictate how most industries and markets evolve, we have unprecedented opportunity for technology growth and adoption to be materialized in the next few months.