BoldIQ Support Engineer at FullConTech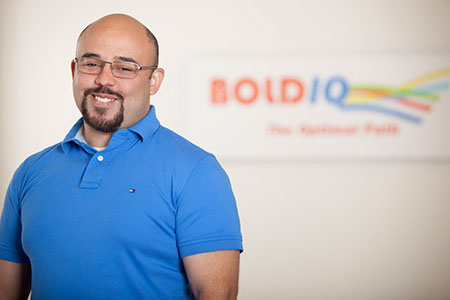 Daniel Browning was certain of two things when he completed his military service: He would need a degree to stay in IT and transition to the private sector and, because he had a family to support, he had to get a job as soon as he graduated.
Although he'd gathered 6 years of experience working in IT with the U.S. Army as a Signal Support System Specialist, when Daniel left the military in 2013, his first goal was to earn a BS in Computer Science. He'd started working on his degree through St. Martin's University's Extended Learning Division while still in the Army and stationed at Joint Base Lewis-McChord. After leaving the Army, he continued working on his degree at the university's campus in Olympia.
Life as a non-traditional college student brought with it some adjustments. Daniel, who comes from a military family and had grown up on an Army base in Germany, had been stationed in the U.S., Korea and Germany and had been deployed to Iraq and Afghanistan. He'd carried the responsibilities of military leadership, as well as those and husband and father, and had lived in harm's way with young men, like himself, who had joined the military out of high school. As a student at St. Martin's, most of the other students he met were at a much different place in their lives, and he had to learn to deal with different stress patterns.
"As a soldier," Daniel said, "you're constantly exposed to stress and it becomes a part of your life. Stress is your 'normal' and it builds a unique camaraderie of people going through it together. In school, stress is concentrated on the end of the semester — it's not the 'normal.'"
To help him find the right technology job, Daniel went through WTIA's inaugural Draft Day program in June. He was surprised to discover that while there were some companies that seemed reluctant to hire veterans, most people with whom he spoke expressed an appreciation for his military experience – especially BoldIQ in Bellevue. Daniel had an opportunity to interview for a job as a Support Engineer with the company through Draft Day.
"I wasn't expecting my military service to count for anything in the job hunt," he said. "BoldIQ was looking for veterans, because they needed people who could make quick, accurate decisions in stressful situations, are motivated, and can work without a lot of supervision."
BoldIQ offered Daniel a job, and he started working there at the end of July, supporting customers, primarily in the aerospace industry. He also graduated from St. Martin's in August with his degree in Computer Science.
"Life right now is awesome," Daniel said. "BoldIQ values my background and my abilities as an individual. It's a supportive, fun, and diverse organization, so I get to learn from a variety of different people."
What's Daniel's advice to employers when it comes to talent management? "Be willing to teach," he said. "In most interviews, there's a test, a coding assessment, and lots of emphasis on having the exact right experience. There's a lot of great talent out there that may not quite fit the job description. There's a lot you can teach people, and teaching not only builds ability — it builds loyalty."