BoldIQ featured in the Puget Sound Business Journal cover story by Steven Goldsmith
Seattle's miserable traffic has an upside. It's spurring local entrepreneurs to try to reinvent the way you commute.
Seattle's stuck in traffic. It's turning to software to break free.
Heeding that S.O.S., investors are pouring millions of dollars into the business sector known as smart mobility — tech firms that share cars and rides, deliver meals and connect roads, transit and parking — all en route to the coming landscape of self-driving cars and aerial drones.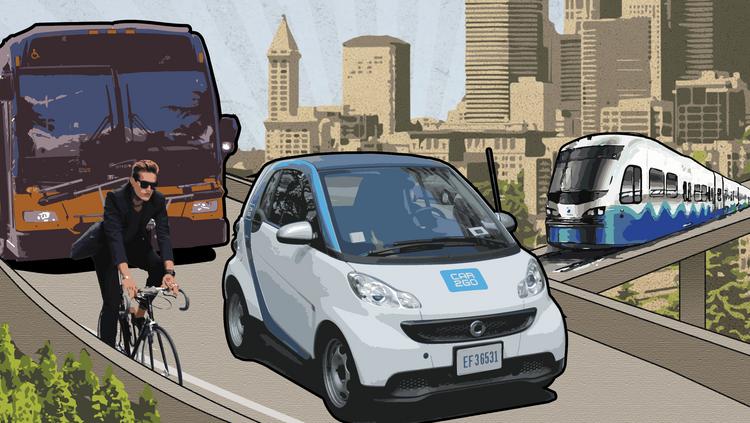 Kirkland-based Inrix, Seattle's Pavia Systems, Bellevue transportation firm BoldIQ and even Seattle's Pronto Cycles are all working — in very different ways — to unclog crowded streets both here and elsewhere.
If these and other companies are successful, the region's tech entrepreneurs could develop a reputation for creating technology that solves one of the most maddening, time-consuming and money-losing propositions — sitting in traffic. The financial opportunities for these companies are huge.
A recent Texas A&M Transportation Institute study found that traffic congestion caused drivers to waste more than 3 billion gallons of fuel and kept travelers stuck in their cars for nearly 7 billion extra hours. The total nationwide price tag is $160 billion. Commercial truckers lose more than $30 billion annually.
In the Puget Sound region, drivers spend 63 extra hours a year stuck in traffic — the seventh-worst in the United States.
Stamping out gridlock
BoldIQ CEO Roei Ganzarski called the Seattle area one of the nation's top five hotbeds for smart mobility.
"This region has a beautiful mix of really bad gridlock, a very quickly growing population and a tremendously active entrepreneurial community," he said.Those entrepreneurs increasingly also team up with old-school public agencies that run buses, paint parking spaces and build roads.
Such public-private mashups occur at Pavia Systems, whose app makes state highway inspectors more efficient, and Inrix, which just got hired by the government of Denmark to monitor that entire nation's traffic in real time.
"Governments are saying, 'We have to tap the benefits of the private sector,'" said Chris DeVore, partner at seed-stage investment firm Founders' Co-op and director of Techstars Seattle.
DeVore noticed the most applications ever last year for funding from companies partnering with government agencies, including transportation tech.
Estimates vary on the financial potential of smart mobility, as do definitions of what the sector encompasses — whether to count food delivery apps, for instance. It's hard to find a tech company that doesn't have some transportation play in its garage, especially if it wants to work with industry leaders Google and Apple — both of which are getting ready to build their own "connected" cars.
Transportation mashups
In 11 funding rounds, San Francisco ride-sharing colossus Uber has raised nearly $7 billion.
To grab its dominant market role, Uber has had to persuade municipalities to unlock decades of regulations protecting taxis and limousines from competition. Seattle was one of 51 jurisdictions, at last count, to allow ride-share companies after Mayor Ed Murray negotiated a compromise that offered some concessions to taxis.
Kaleb Miller, who worked at the pioneering Car-Share Portland in the 1990s, now serves as Seattle general manager for the largest car-share service in the world, Boston-based Zipcar. He's part of an industry that's grown by 41 percent every year since 2010.
Zipcar works with public transit agencies to make it easier for residents to get around without clogging the streets with a personal vehicle.
About 60 percent of Zipcar's customers have a transit pass, and a quarter of users ditched their personal vehicles after joining.
It's an example of how public and private players increasingly drive parallel routes.
A typical industry "hybrid" is Ted Trepanier, director of product management at Kirkland's Inrix. Before joining the firm, he spent a quarter-century at the Washington state Department of Transportation.
To unclog traffic, Trepanier said, the public and private sectors will need still deeper interaction.
Though not a household name like Uber, Inrix draws on serious resources. The traffic data firm has more than 300 employees and was valued at $550 million in its most recent funding round, led by Porsche.
The company provides back end data for more than 400 customers in 42 countries.
A smaller-scale success story in public-private collaboration is Pavia, whose software relays real-time information on potholes and other road and bridge repair needs.
The startup recently pulled in $3 million from investors and landed deals with the Washington state Department of Transportation and other agencies. Bridge and road inspectors use Pavia's app to log problems and compose reports using the cloud.
Uphill climb
Where is all this leading? Possibly to a world where taking a single mode of transportation is an outmoded idea.
Demi Allen, general manager of Seattle's Pronto Cycles — a nonprofit that runs the region's biccycle-sharing system — paints a future in which a commuter, using a single prepaid card, will hop on a bike share to a park-and-ride, pop on light rail and then use Zipcar to travel from the transit stop to work.
But how is a mere human to sort through all those options? At Bellevue's BoldIQ, "dynamic-optimization" software is already saving delivery services 30 percent to 60 percent in costs by using artificial intelligence to sidestep ever-changing traffic clogs and recalculate routes as new orders arrive.
BoldIQ has helped trucking companies make routes more efficient and cut down on fuel usage.
Ganzarski's 12-employee company is on track to triple in revenue this year, after already tripling last year.
That doesn't mean anyone thinks gridlock will vanish at the click of an app.
In fact, Ganzarski believes that popular ride-share services such as Uber and Lyft actually worsen traffic congestion by sending squadrons of driver-only cars trolling around for the occasional passenger. A better way, he said, would be to arm taxicab companies with sophisticated technology to deploy cabs at utmost efficiency.
Howard Jennings, manager of Arlington, Virginia-based transportation demand management company Mobility Labs, also sees an obstacle-laden route to clearing America's highways, especially because any road that's traffic-free never stays that way for long.
A few years ago, Jenkins' organization began inviting young transportation entrepreneurs to monthly meetups. The group now has 900 members.
"There's private sector innovation just busting out," Jenkins said.
Seattle, with its narrow-waisted geography, belated start at mass transit, rapid job growth and fifth-most-congested streets in the country, has a tougher hill to climb.
But experts say the region has one thing in its favor: a bevy of tech entrepreneurs.
Thus, when Metro General Manager Kevin Desmond looks at updating the prepaid ORCA (One Regional Card For All) transit pass in the next half-dozen years, he says he may rely on tech companies to lead the way.
"We don't have the creative expertise to create new applications," Desmond said. "That's where the private sector comes in."